Best Sippy Cup for a Baby
As your little one grows up, it's time to make changes. It's suggested by experts to make the transition from breastfeeding to cups by the time your child is 18 months old. However, transitioning directly to the cup can be quite challenging. Sippy cups are a great middle man that will help to make the transition period easier.
Sippy cups teach the children independence as the child can drink on their own without spilling the drink. However, too much reliance on the sippy cup may lead to the cavity and other dental issues. Parents need to limit the usage time and closely monitor so that the baby doesn't get cavities.
There are tons of different types and styles of sippy cups. Let's take a look at our picks for the best sippy cup for babies.
Our Best Sippy Cup for Baby
NUK Silicone Spout Active Cup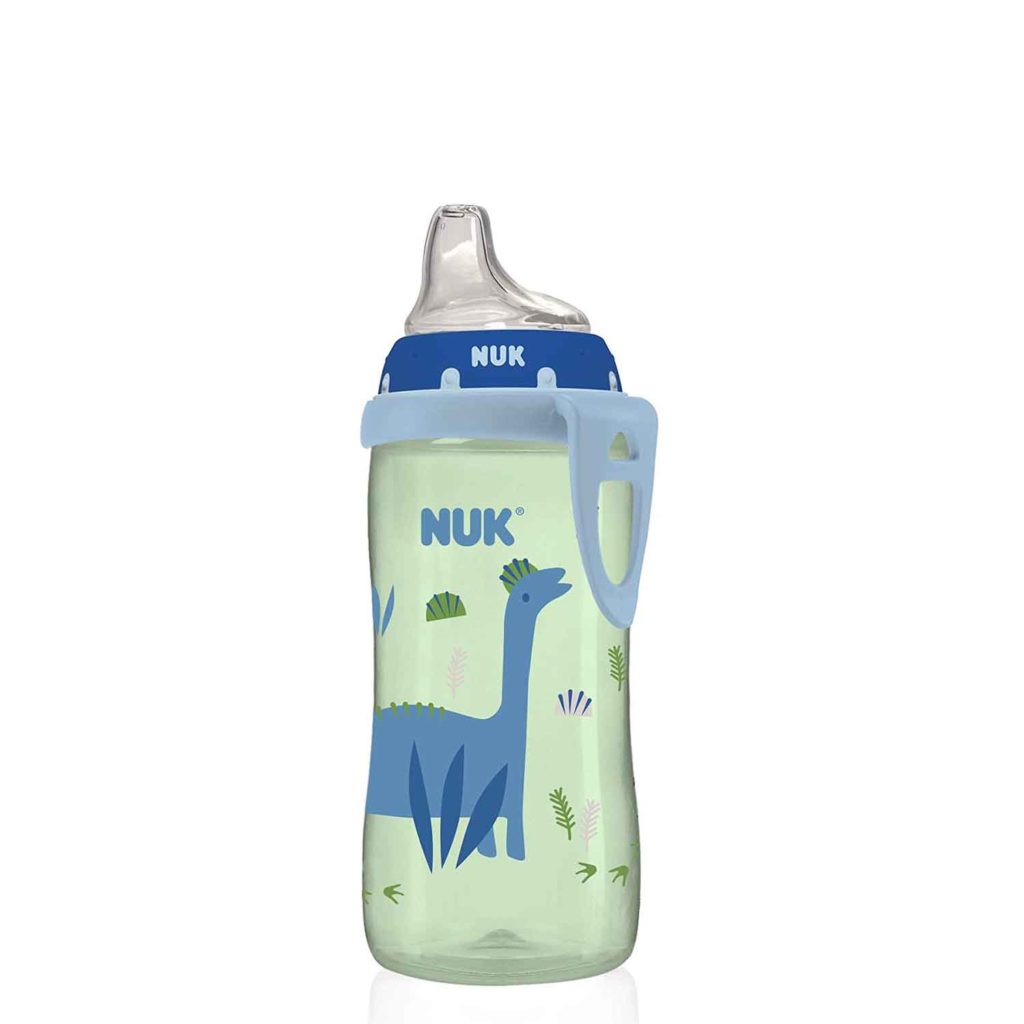 Gone are the days of those old-fashioned sippy cups. Get your hands on the NUK Silicone Spout Active Cup to have a complete mess-free transition from bottles to cups. Nuk's innovative technology ensures no spillage even when the cup is placed completely upside down. Many moms even call it the "magic cup" due to its incredibly simple yet convenient features.
The NUK Silicone Spout Active Cup can hold 10-ounces of liquid to keep your baby hydrated. Also, the transparent design enables you to have a look at the type of liquid that's inside the cup. However, there's no mark on the cup to monitor the total consumption amount.
The cup is made with BPA-free material to eliminate any health hazards. It comes in many funky designs that kids love it on the very first look. The compact and lightweight design of the cup enables you to carry it even on the go.
It features a soft spout that's super gentle on the gum and teeth of the baby. It includes a cap to keep the spout clean and germ-free. Even though the cup comes with a spout, it's super easy to clean. You can hand wash it or throw it in the dishwasher to get it squeaky clean in a jiffy.
Leak-proof and spill-proof design
100% silicon spout
Made with BPA-free material
Holds 10 ounces of liquid
Funky designs
Compact and durable
Doesn't come with a handle
MAM Starter Cup with Handles
Mam has been making sippy cups for ages and they're one of the most trusted brands by the moms. It's a perfect cup making the transition from bottle to the sippy cups. They are made with BPA-free material that ensures the utmost safety to the baby's health.
This trainer cup comes with an eye-catching look that your baby will absolutely adore! It comes in both pink and blue color making it a great fit for all the babies out there. One of the most prominent features of this sippy cup is that it has measurement marks on the sides that let you monitor your baby's fluid intake.
 The handles are easy to hold and get a grip on. Also, the ergonomic shape of the sippy cup enables the babies to easily hold onto the cup. Thanks to the patented valve system, you'll face no issues with spillage at all with this cup.
The cup holds 220ml/8oz with a wide opening for easy filling and cleaning of the cup. It has an easy assembling method and also dishwasher safe. The spout can be taken apart completely for an easy and thorough cleaning process.
The spout is super soft and it helps to teach the baby the difference between sucking and drinking. It also features a dust cap that refrains accidental spillage and helps to keep away dirt from the cup.
Easy cleaning process
Made with BPA-free and PVC-free material
Affordable
Soft spout
No spillage at all
Available in only two colors
Munchkin Miracle 360 Trainer Cup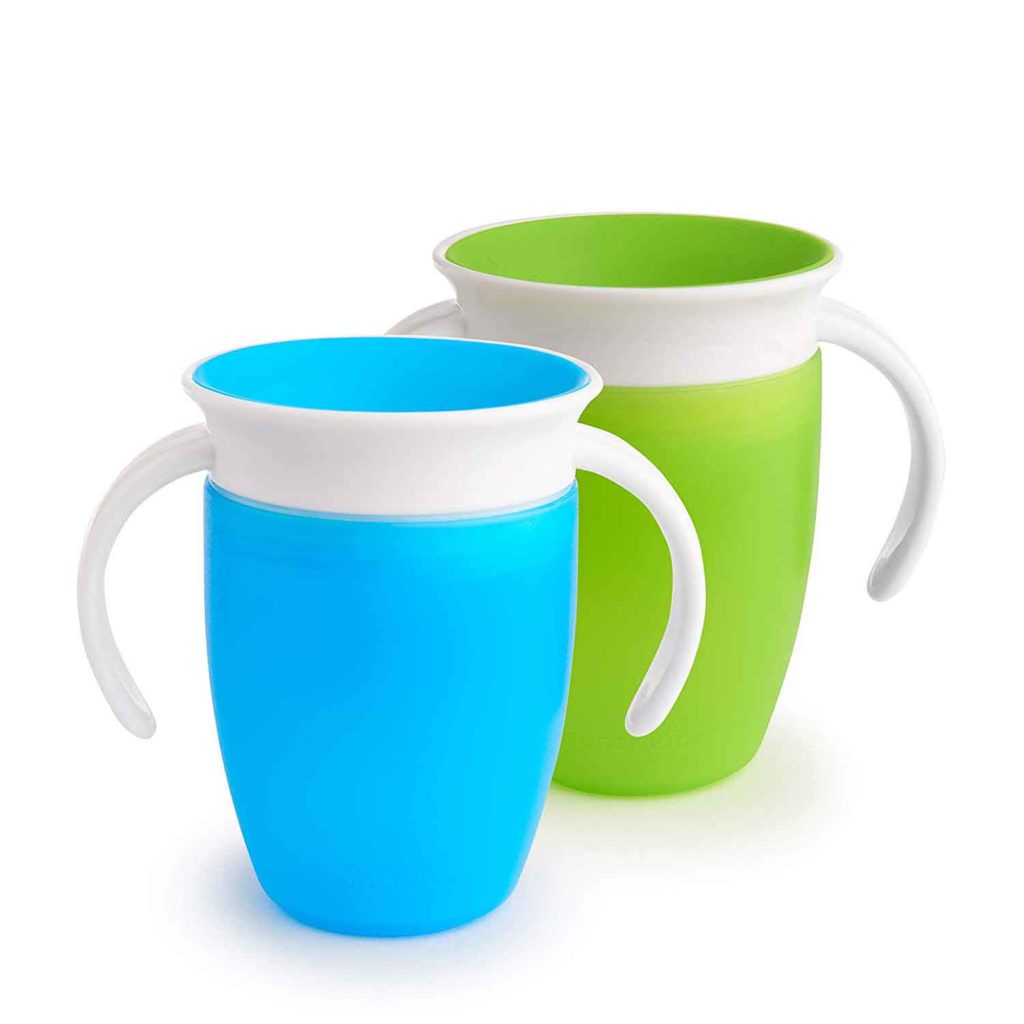 Sippy cups were invented to give the parents a hassle-free transition from bottle to cups. These cups are super cute and compact-sized as well. You can just throw it in the diaper bag or carry it around for a mess-free drinking routine.
If you're looking for a dentist-recommended sippy cup for your little champ then the Munchkin Miracle 360 Trainer Cup is the best one for you. The innovative 360-degree design of the cup refrains all kinds of spills as the cup automatically seals when the baby stops drinking. However, the liquid will start flowing through the rim when the baby starts drinking.
It comes with an easy-hold ergonomic handle that lets the baby hold the cup without any effort. The spoutless design ensures that the baby sips onto the drink without making any kind of spillage. The strawless feature also makes it super easy to clean. Also, no spout design enhances muscle development in the child's mouth as well.
Safety is a major concern when it comes to baby products. No matter how attractive the cup is, if it's made with unhealthy material then you should definitely avoid it. This sippy cup is made with high-quality BPA-free material. Make sure you don't microwave the cup or pour hot liquid in the cup as that will eventually deteriorate the quality.
Comes in a set of two
Holds seven ounces of liquid
Spoutless design
BPA-free material
Highly durable
May take a while for the child to get used to the spoutless design
Nuby No-Spill Cup with Flex Straw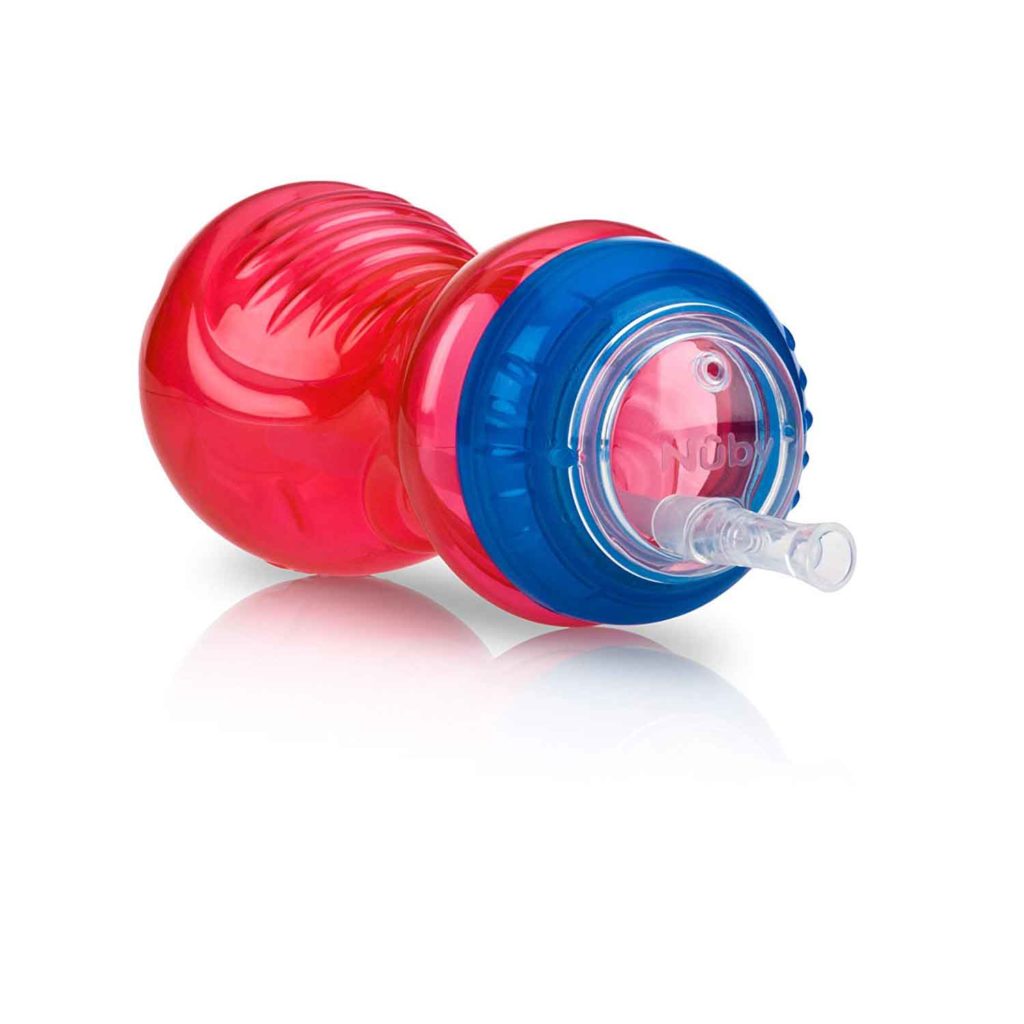 If your baby prefers straws over spouts then this sippy cup is a must-have for you. The durability and the build-quality are absolutely commendable. This bad boy is undoubtedly one of the best sippy cups for baby out there.
The design of the Nuby No-Spill Cup with Flex Straw is simple yet elegant. It comes in solid colors that let you monitor the liquid consumed by the baby. These sippy cups are also super affordable and they come in a set of two or four.
When it comes to babies, Nuby makes no compromise about the quality of the straws. All their products are made with high-quality material. The sippy cup is made with BPA-free plastic which ensures the utmost safety to the baby. 
The innovative design of the cup and the Touch Flo straw valve need a small squeeze and suck action for the liquid to flow. It also features a smart valve-technology that ensures no spill at all. The straw is made with soft silicone that is super gentle on the gums. Also, straw doesn't hamper the emerging teeth and exert no pressure on them at all.
Even though this sippy cup doesn't come with the handle, the ergonomic design makes it super easy to hold. The curve of the cup easily conforms to the baby's hands. The innovative shape of the cup refrains all kinds of leaks and spills.
Holds 10 oz. of liquid
Ergonomic design
Soft straw
Doesn't hurt gum or hampers growing teeth
BPA-free
Requires a squeeze and suck action for the liquid flow
Green Sprouts Glass Sip and Straw Cup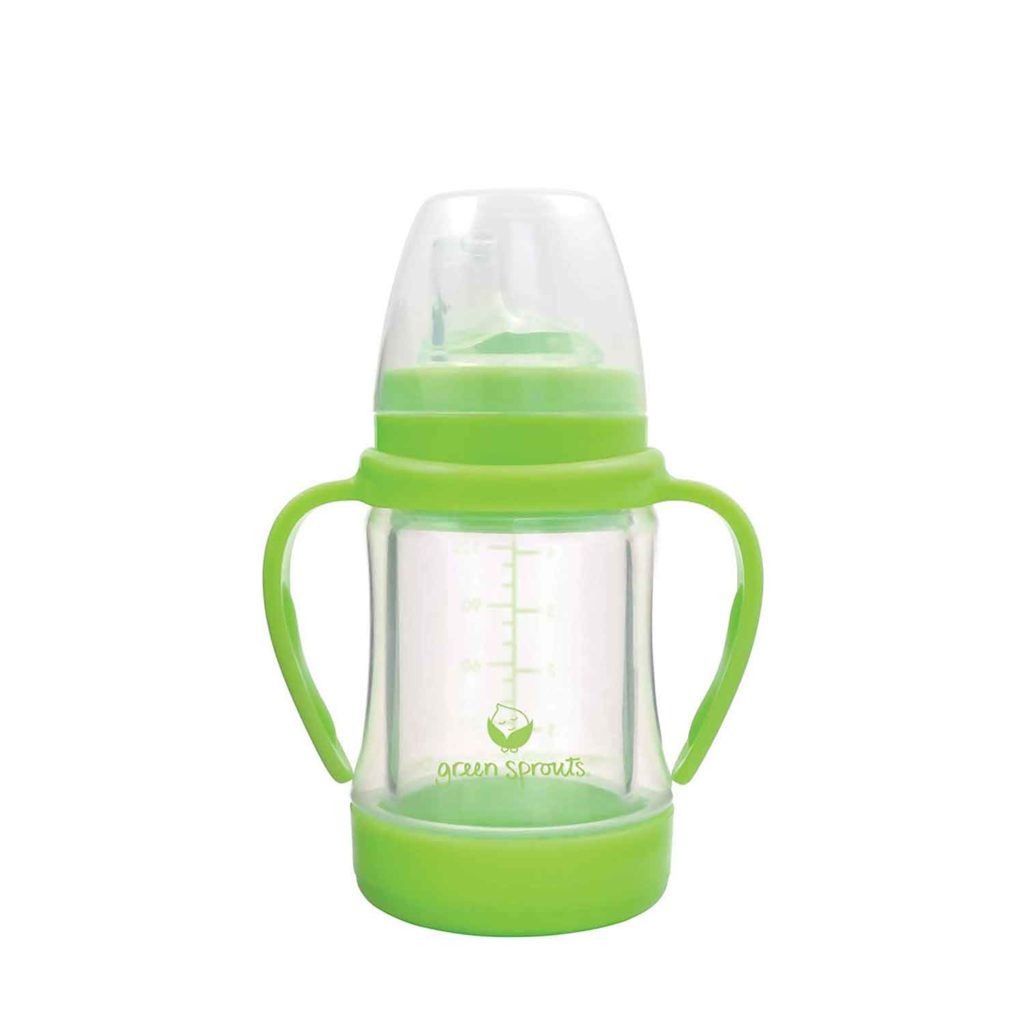 Green Sprouts is a pioneer in the baby-care industry. They have a wide range of products for the health and wellbeing of the babies. They ensure the utmost comfort while designing their products and help stimulate the overall learning process.
The Green Sprouts Glass Sip and Straw Cup is an old school sippy cup that's super convenient and easy to use. Plastic is known for its devastating effects. However, with this cup, you don't have to worry about BPA or any other harmful ingredients as the cup is made with glass.
The bottom of the cup has a plastic base that prevents the cup from breakage even if it falls. No worries, the liquid only touches the glass and the silicone spout. It doesn't come in contact with the plastic at all.
The sippy cup comes in easy to hold shape. It includes a handle on both sides that let the baby have a proper grip on it. The spout is made with soft silicone that doesn't harm the gums or the growing teeth. You'll also get an additional straw with the cup that you can swap with the spout.
The cleaning procedure is a bit tricky as the body of the cup is made with glass. The cup is dishwasher-safe. However, make sure you carefully take off the spout to give the cup a thorough cleaning.
Ensures healthy oral development
Drip-free spout to make the transition process easier
Shock-absorbing base to prevent from breakage
Made with high-quality glass
Convenient design
Needs to be used under adult supervision
Thermos Foogo Stainless Steel Sippy Cup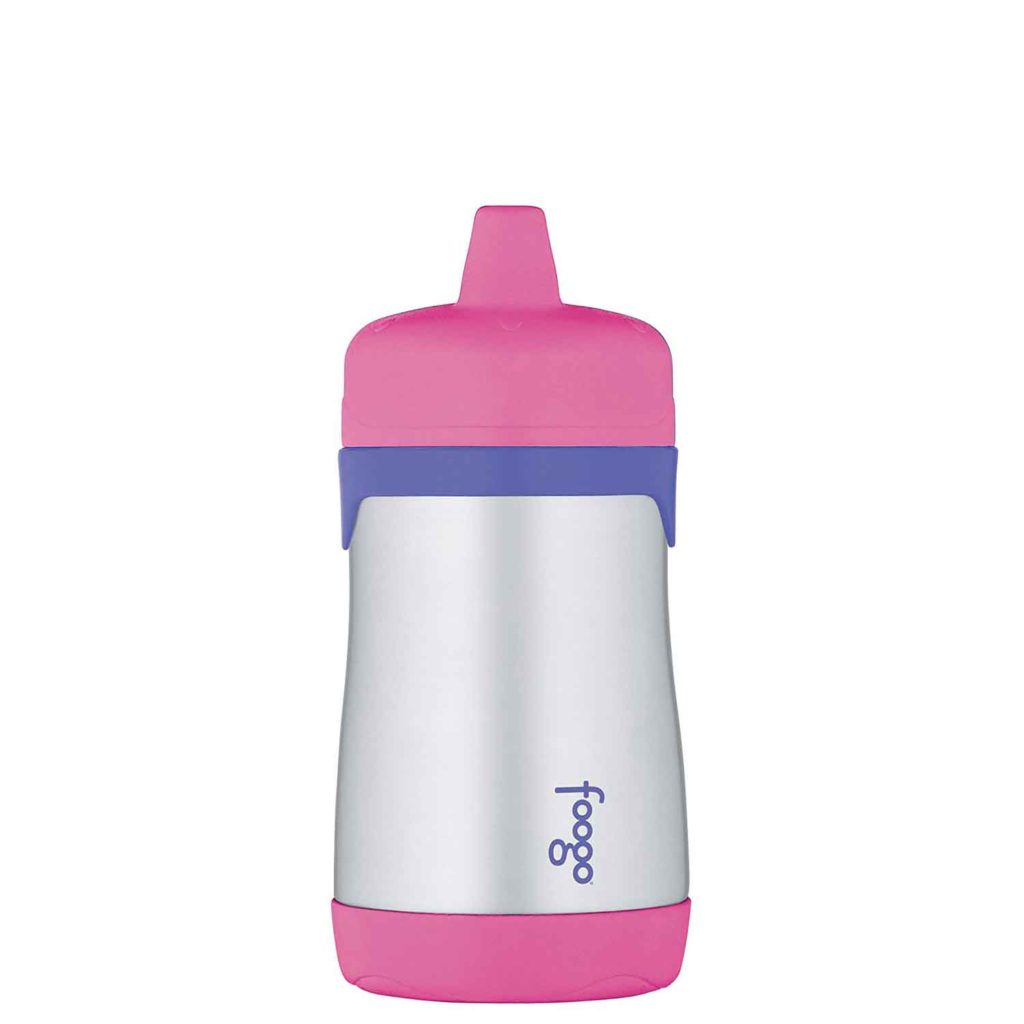 Thermos has been there for over a century and they're vastly known for their incredible range of products. Babies tend to break stuff easily and to save you the trouble, Thermos has come up with this unique break-proof and spill-proof design. The cup has a stainless-steel body with enough insulation that helps to keep the liquid to retain its temperature for hours.
It features a soft silicone straw that is gentle on the gum and doesn't cause any irritation. There's a cap over the straw that prevents germs and bacteria from getting inside the drink. The slight contour of the body will enable the kids to easily hold the cup. The attached lid helps to keep the straw clean and prevent leakage or spillage as well.
The body of the cup is made with stainless-steel that offers exceptional durability. Also, the interchangeable parts of the cup help it grow along with the child. However, don't pour hot liquid on the cup as it's only suitable for cold liquids.
The Thermos Froggo sippy cup also has a rubberized bottom to keep the bottle in an upright position all kinds of surfaces. The cleaning procedure for the super simple and quick. The cup is dishwasher-safe. However, the manufacturer recommends to opt for a handwashing method if possible. 
Comes with interchangeable parts
Rubberized bottom for better balance
Slight contour provides better grip
Durable stainless-steel body
Only suitable for cold liquid
The First Years Take & Toss Spill-Proof Sippy Cups
If you're looking for sippy cups with super affordable price tags then The First Years Take & Toss Spill-Proof Sippy Cups are the best choice for you. They come in very handy during trips and day outs.
They come in a pack of 4. So, you can keep them around the house or toss them in the diaper bag to use when needed. You'll also get a cap to cover up the cup while traveling. The spout is made with soft material that doesn't hamper the growing teeth or the gum of the baby.
While taking care of the baby, the manufacturer also wants to leave behind a better and safer world for the babies. The cups are recyclable and free of BPA, PVC, and Phthalate. It's made with high-quality material that is absolutely dishwasher-safe. Also, the stackable design gives you more storage space.
These sippy cups have a translucent design with flashy fun colors to easily attract the children. The translucent design of the cup also enables you to monitor the amount of drink left in the cup.
One demerit of this cup is that it tends to leak at times. Therefore, it's more suitable for older children who have a proper grip on the cup. However, for the price, there's room for complaint and they're certainly one of the best sippy cups for baby.
Comes in a pack of four
Stackable design
BPA, PVC, and Phthalate free
Budget-friendly
Dishwasher safe
Klean Kanteen Kid Classic Sippy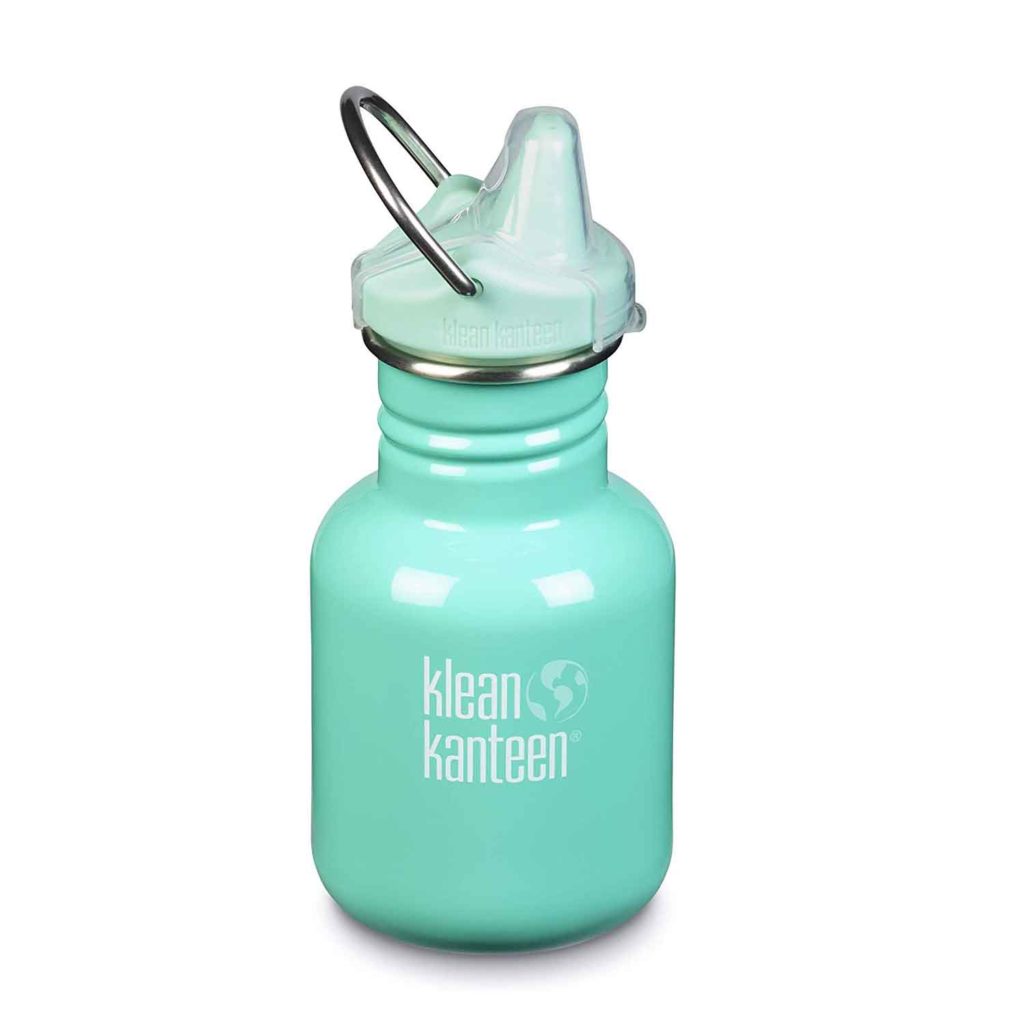 The Klean Kanteen Kid Classic Sippy is raved by parents for making the transition from bottle cups easy as a breeze. The price is a bit on the steeper side compared to the other cups we reviewed but rest assured that it's absolutely worth the splurge.
When it comes to durability, the Klean Kanteen sippy cup is hard to beat. It has 18/8 stainless-steel construction that offers 4 times more durability than other sippy cups. The cup comes in multiple color variants that will surely attract the babies. However, it doesn't include any handle. So, it may take a while for the baby to have a proper grip on the sippy cup.
The spout is covered with a BPA-free polypropylene that keeps the spout dust and germ-free. The steel construction is not only environment-friendly but it also helps to keep the drink fresh for hours. The innovative climate lock insulation helps to keep drinks hot for over 30-hours and cool for over a whopping 100-hours.
The spout of the Klean Kanteen Kid Classic Sippy can be easily taken off. As the body is made with stainless steel, we recommend you to go for handwash instead of the dishwasher to retain the durability of the cup. 
Excellent durability
Made with high- quality stainless steel
Comes in a variety of attractive colors
Climate clock insulation technology
Safer than plastic sippy cups
Philips Avent Natural Trainer Cup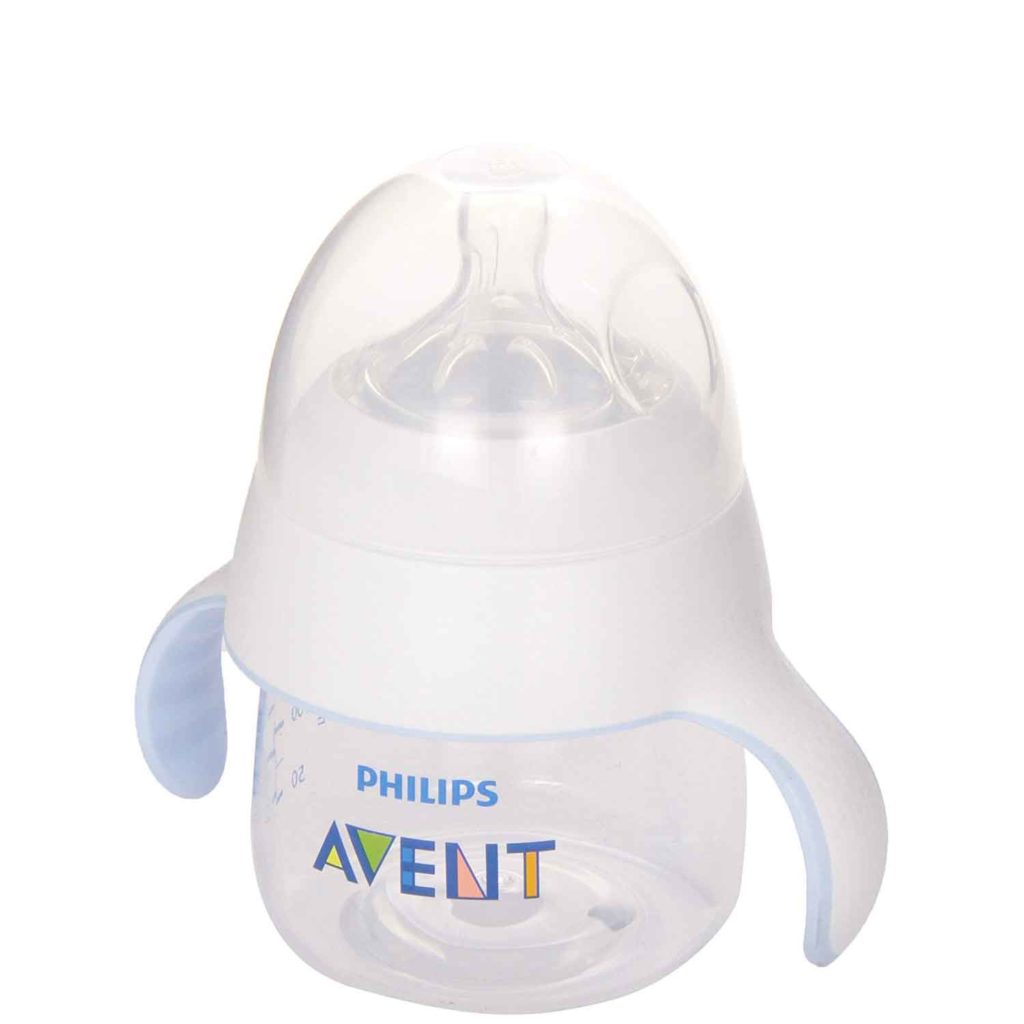 The Philips Avent My Natural Trainer Cup is the best transition sippy cup for babies that are four months of age and older. This cup makes it easier for your child to transition from bottles to sippy cups.
It includes both natural silicone nipples and a soft spot, allowing flexibility to move from bottle to cup whenever your child is ready. The design encourages your child to get used to drinking from this cup. Also, the child will feel the familiarity of a bottle and the comfort of a soft spout. The trainer handles with soft grips makes it easier for your child's little hands to hold the cup.
One cool feature is the detachable handle to make it feel like a natural drinking cup. You can simply add them later when your baby is ready. It has an innovative twin valve design that helps to help to vents air into the cup and away from the baby's tummy. Also, this feature reduces the feeding issues that air ingestion can cause.  
Moreover, My Natural Trainer cup is made from BPA free materials and includes a protective hygiene cap. This helps to keep the bottle and its contents clean. All the parts of the cup are dishwasher safe for easy cleaning.
Overall, this is one of the best sippy cups that come in blue, pink, and white color.
Comes with two unique spouts
5 oz. volume size
Rubberized handles to feel soft
Different colors
ZoLi BOT Straw Sippy Cup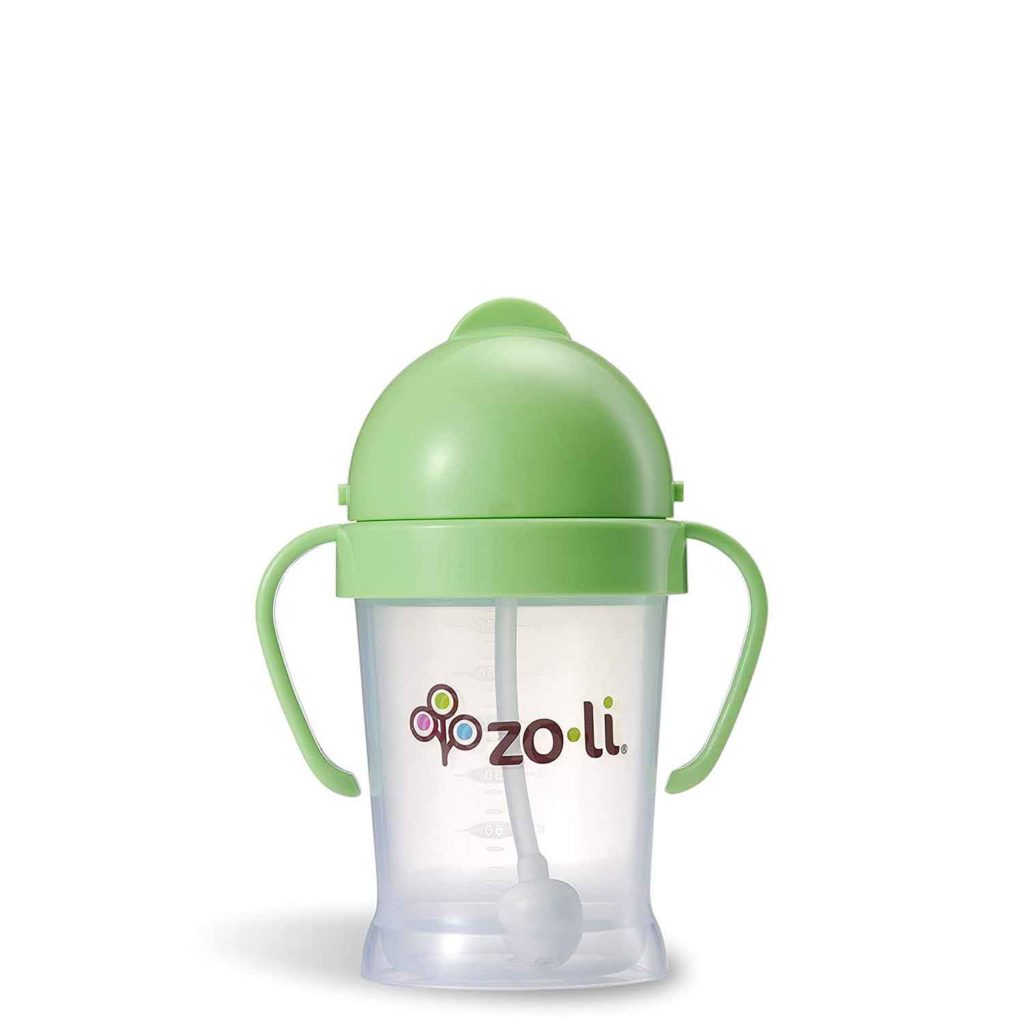 The ZoLi Bot Straw Sippy Cup is ideal for babies that are 9 months of age or older. It's an everyday product that is redesigned to meet the needs of babies and children. They try their best to make parents' lives just a bit easier with an innovative solution. 
The most unique feature is the original weighted straw that is made to keep up with your child's busy lifestyle. This weighted SILIFLEX straw will move with your children, so they will be able to drink to the very last drop no matter how they move. It comes in 6 oz. and 9 oz. for you to choose the perfect capacity to keep your baby hydrated.
This cup is made from BPA free plastic that can be hand washed or run through your dishwasher. It's very easy to clean as the lid and straw can be easily taken apart to get a deep cleaning with ease. Moreover, you can purchase replacement straws.
It's very simple to assemble and the handles are lightweight for your baby to hold. One demerit of this cup is the thin straw that becomes damaged from biting or normal wear and tear, making it prone to leaks. Also, you have to purchase a cleaning brush to clean the straw as it doesn't come with the cup.
Overall, this BOT cup is great with the weighted straw that gives your baby the ability to drink in any direction.
Weighted straw to drink from any direction
Comes in different sizes
BPA free plastic
Crosscut straw tip to self-regulate the flow of liquid
Have to buy a cleaning brush separately
If you're ready to buy a sippy cup for your toddler or bigger baby then one of the key considerations in selecting a sippy cup is its spout. Spout can affect the formation of your child's teeth as it comes into contact with your child's mouth. So, you have to carefully choose your child's sippy cup spout and for that, we have listed four kinds of spouts.
Soft Spout
Soft spouts can be constructed of silicone or plastic. It's known as chewy much like your child's pacifier. If you're transitioning to the sippy cup for the first time then you can consider soft spouts as a good option. This is because it requires suckling action to draw out the drink inside.
One disadvantage of soft spouts is that your child might get addicted to suckling and later on refuse an open drinking cup. So, if you decide to have a soft spout then make sure you use it only for a short period of time.
Free Flow Spout
Free flow spouts are made of hard plastic. It requires closing the lips around the spout while tipping the cup. The liquid flows much quicker than the soft spout. So, it will take some time for your baby to adjust with the free flow spout.
One disadvantage of this spout is that leaks are more likely to occur which makes it unsuitable for traveling. So, if you're thinking of buying a sippy cup with a free flow spout then you have to buy a leak-proof one with a valve.
Straw
Babies love to sip from a straw after they figure out how to do it. This makes them feel like a grown-up as they can drink like you. It not only makes them feel grown-up but also helps them to exercise different oral muscles rather than the one your child uses for sucking. Moreover, straw sippy cups help the babies to develop their speech. 
It's good to have a sippy cup with a weighted straw because the end of the straw that is inside the cup will always be in contact with your child's drink.
Natural Drinking Cup
Natural drinking cup is just like the real cup from which you drink. However, it has a spill-proof valve for the liquid to flow slowly when it's pressed by your child's lips. This cup doesn't have a spout and lets your child drink from around the lid.
This is an excellent way to transform from a spout sippy cup to a real cup. Moreover, it also has the extra benefit of exercising different speech muscles. A natural drinking cup will make your toddler feel like a grown up for sure.
Buying Guide: Things to Consider Before the Purchase
Once you have decided which spout you're going to buy for your child, now it's time to look for the features your sippy cup should have. When you go to a market to buy sippy cups for your child, you might find yourself standing in front of a big shell full of colorful cups. So, you may not know where to start from.
Therefore, we're here to help with the buying guide to breaking down the different features for you. Let's check it out then.
Material
There are three types of material for sippy cups.
Glass: glass is considered as a great material for a sippy cup. It doesn't leech any harmful chemicals onto your child's drink even when the dink is heated as the glass is an inert material.
Moreover, the glass material is durable and scratch-resistant. The only disadvantage of glass material is that it's so heavy and easily breakable. It's a usual thing for a child to throw away anything which makes it, even more, an accident-prone combination for little hands.
So, it would be better for you to wait until your child is older before you choose to buy one. Also, try to choose those glasses which are wrapped in a silicone sleeve.
Plastic: plastic is the most popular material for sippy cups due to its lightweight design and virtually indestructible in the hands of a baby. Just make sure you choose a BPA free plastic when you decided to go with a plastic sippy cup.
Stainless Steel: the last one is the stainless-steel material which is a recent addition to the market. Some stainless-steel models have the insulation advantage to keep your child's drink at the temperature you need. If you want to avoid glass and plastic then this a complete non-breakable option for you.
Shape
There are so many different shapes of sippy cups designed to fit into your little child's hand. These different shapes of sippy cups are also categorized into three basic shapes such as short and wide, contoured, tall and slim.
You should start with the short and wide one as it's the most comfortable. Also, your child will be able to lift this one by short chubby arms. Moreover, it's easier to hold with little hands as it has handles on either side. First-timers won't find this shape of sippy cup too heavy because the shape holds the least amount of liquid.
The next one is the contoured cups which are a little bit taller than the short and wide shape of sippy cups. They are designed like a taper in the middle to form a waist. The middle helps little hands to grip the drinking cup. Your child won't find it difficult to hold as it's similar to their feeding bottle.
The last one is the tall and slim shape of sippy cups which are mainly for bigger toddlers. This sippy cup contains more liquid than any other shape of sippy cups. Bigger toddlers can lift a tall sippy cup with more liquid because of their long arms.
Overall, no matter what shape you choose for your child, it's always good to buy sippy cups that hold the exact amount of liquid your child can consume. The reason is to minimize wastage due to the spillage of liquids.
Handles
Handles are great features if your little one's ability to hold them. Sippy cups come with a handle on one or both sides. However, you'll eventually want to get rid of handles to prepare your child for drinking out of a regular cup. So, it's better to buy a cup that has removable handles rather than buying a whole new cup.
Leak-proof
If you're going for a car ride or a stroll in the park, then leak-proof feature in a sippy cup is truly a blessing for every parent. Leak-proof sippy cups usually have the valve spouts as valves hold back the liquid pretty well, yet allow easy sipping. Always make sure to clean them properly between uses.
Overall, it's a very vital feature when your baby is learning to drink milk/juices from a cup.
Replacement spouts
When you're thinking about your baby might need to transition to a sippy cup, they will also be teething. This means teething toddlers are most likely to be chewers and do severe damage to their sippy cup spouts. So, it's wise enough to buy a brand that offers replacement spouts. It will save you money when you won't have to buy a whole new cup.
Easy to clean
Valve hard spout models have a lot of parts which means they are most likely to be difficult to clean. One should ideally clean a sippy cup daily and depending on the mess even more frequently. It's best to get a sippy cup that has few parts as much as possible. Also, the design shouldn't have difficult to reach parts.
So, when you're choosing one make sure it's easy to clean deeply because missing a spot could become a real health hazard, especially the valve and spouts.
Cover
A cover is highly recommended to ensure the spout remains clean. It also reduces multiple cleaning after each fall. Babies are prone to throw or drop the cups, so buy a cup with a cover that at least covers the spout completely.
Tips for Introducing to a Sippy Cup
If your baby shows interest in drinking from a cup or glass, then you shouldn't wait too long to introduce baby to a sippy cup.
Don't need to rush or force a child to use a sippy cup even if the child is over six months as each child develops differently and not one is better than the other. Some babies go directly from breast to regular glass. So, take your hint from the baby when you feel the baby needs a sippy cup.
Children love the sense of independence and a sippy cup can give them that independence. There is a higher chance of your baby's at risk for tooth decay because the teeth will be soaked in sugar all day. So, to prevent this from happening you should limit the meal to juice times and then fill the cup with water for the rest of the day.
Try to keep the sippy cups away or don't let your child run with the sippy cup as your child is just learning to walk and most likely to fall all the time. So, falling over with a sippy cup can cause serious injuries.
If your baby loves to drink from the grown cups then get a natural dinking cup style and skip the soft spout. This will also help exercise muscles that won't be possible with the soft spout. Moreover, a natural drinking cup doesn't get in the way in the formation of your child's teeth as it doesn't have a spout.
Lastly, avoid leaving your child's sippy cup under the sun as hot places encourage the growth of bacteria and increase the risk of spoilage.
How to Sterilize Sippy Cups
Babies are super sensitive. It's important to maintain a proper hygiene regime for all baby products to keep them in sound health. Babies tend to be quite messy, therefore, you need to give the sippy cups a regular cleaning to keep them in tip-top shape. All the cups that we reviewed come with easy and simple cleaning procedures. However, we have come up with a small guide to make the cleaning session even easier.
Dissemble all the removable attachments from the cup
Put all the parts in lukewarm water and soak them for 5-10 minutes. Make sure the water isn't too hot to damage the quality of the sippy cup
Now take the attachments out of the water and wash them thoroughly with dishwasher soap
Make sure you clean the dishwasher soap properly and leave no trace behind it. Leaving behind the soap will contaminate the drink and cause health issues.
Most of the sippy cups that we reviewed here can be cleaned using the dishwasher. However, make sure you read the instruction from the manufacturer to see whether it's dishwasher safe or not.
Now that you have a clean sippy cup, it's time to pour the drink. Try to dry up the cup before pouring the drink. Tighten up the lid and other attachments properly to refrain any spills or leaks.
Q.) When should babies drink from sippy cups?
Ans. According to the American Academy of Pediatrics, most babies are ready to start drinking from a sippy cup between 6 and 9 months. 
Q.) Do babies drink formula out of a sippy cup?
Ans. Yes! They can. However, at first teach your baby to drink from the sippy cup without the lid on it first as some babies will drink water or juice, but not breast milk or formula from the sippy cup.
Q.) Are sippy cups bad for babies?
Ans. Sippy cup encourages babies to sip, but constant sipping on something rather than water isn't good for the heath of a baby's new teeth.
Q.) When can babies start drinking juice?
Ans. Babies can start drinking juices from 6 months old but you shouldn't give juices to the babies more often as it adds extra calories without the balanced nutrition in formula and breast milk.
Q.) What type of sippy cup is the best?
Ans. It's really difficult to say one particular name as some are best based on budget, grip, transitional, etc. However, the Munchkin Miracle 360 trainer cup is overall the best baby sippy cup available in the market right now
Final Words
Babies don't make the transition from bottle to cup overnight. Children don't have the motor development to hold onto the cups properly. However, this transition may take some time. It takes practice and do-overs to master the skill. The sippy cups are a life-saver that will make this journey a hassle-free one. They will save you from many accidents and mishaps with their easy usage procedures.
Sippy cups are known to develop dental problems over excessive use. It's important that you limit the usage and only make it available when necessary. All the cups that we listed here are top of the line and doesn't contain any health hazard for the babies. Also, the cups let you monitor the fluid intake by the baby.
We understand that you want nothing less than best for your little one. We carefully picked the best sippy cup for the baby to make the transitioning period smooth and mess-free for you.  They're made with high-quality materials with designs that babies absolutely love and adore. So, make you pick and get ready to have a spill-free experience.