What A Heavy Burden Is A Name That Has Become Too Famous – Voltaire
For most first-time parents, giving a name to their unborn child can be an overwhelming and daunting task. Some get overly obsessed and stressed-out knowing that it's a decision that could affect the future of their child. 
It's like a business owner starting out a company of his own, and wants to come up with a name that will best represent the brand.  A name that is equated with success and will stand out among the rest. Some hire creative agencies or consultants to come up with a name not minding to shell out 5-6 figures in dollars just to have that ideal name.
And with that, both the business owner and the parent know that in coming up with a name, it has to be done with deep thought and reflection. It has to make sense and meaning…It has to be – perfect!
There are countless stories of parents having baby-name regret and the shame and guilt that it causes them.  Some become carried-away by current trends and realizing no sooner than the ink on the birth certificate has dried, that they've made a colossal mistake.    
Others gave in to the pressure of family naming tradition ending up with a name they would rather forget, or even worse – hate.  And then there are cases where both parents could not agree to a name, and one parent eventually had to concede begrudgingly.
Such is the complicated world of baby-naming.  Whether you're a first time parent, or a fifth-time mom or dad, you don't want to be part of the list of parents with unpleasant baby-naming experience.  You want to do it right from the very first child up to the last.
And to spare you from the possible guilt, remorse, and shame, we have come up with the list of best baby name books that can help you navigate through all the common baby-naming mistakes and straight to that well-deserved name for your soon to be child.   
Here are our list of the 10 Best Baby Name Books your future child will definitely thank you for: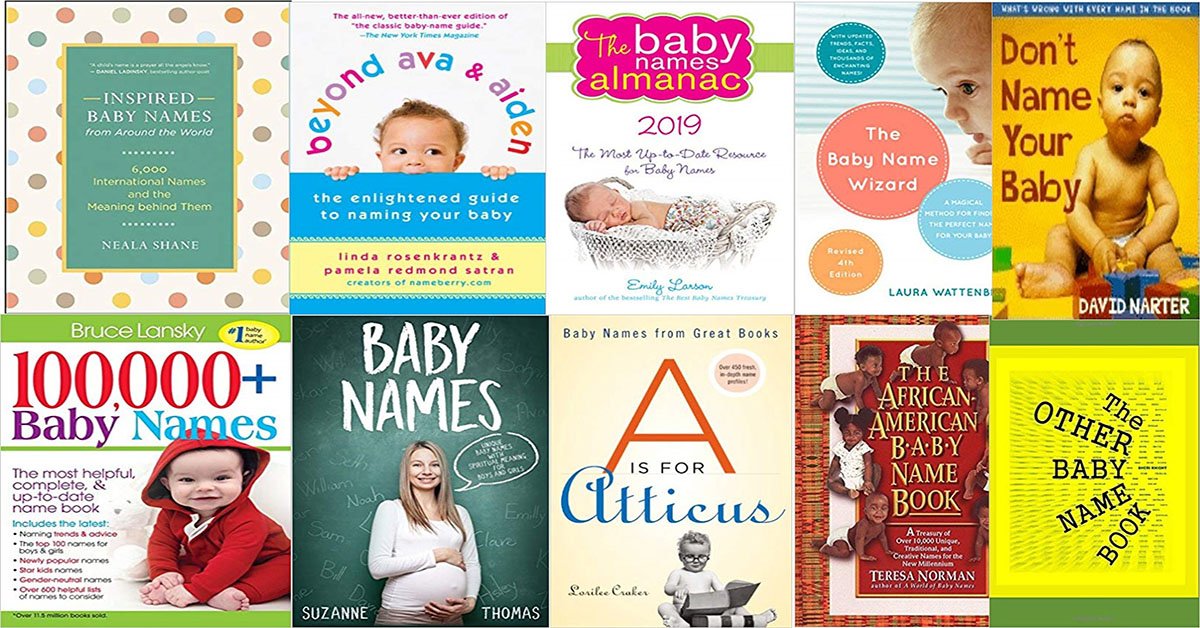 1. Inspired Baby Names from Around the World: 6,000 International Names and the Meaning behind Them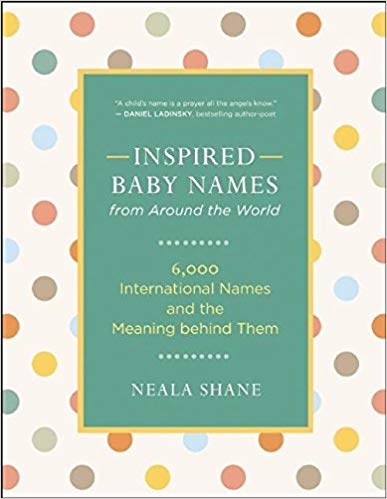 This guide includes more than 6,000 names all over the world, and each one highlights the names' unique spiritual, etymological, and cultural background that is truly special.
If you are curious as to how names from the traditional to the newly coined came about, this book will explain in detail the origins and stories behind each name. 
Names by meaning, ethnicity, and most popular by decade provide easy reference.  Whether it's to honor ancestors, capture a child's essence, or convey parental hopes, Inspired Baby Names from Around the World will help you greet and bless your new baby with heartfelt meaning.
2. Beyond Ava & Aiden: The Enlightened Guide to Naming Your Baby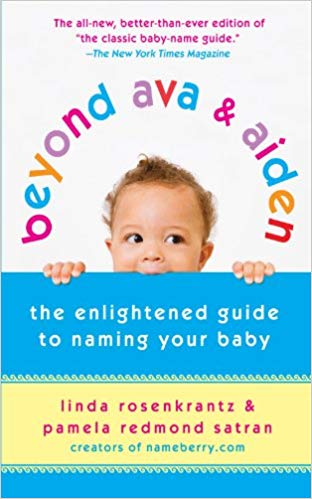 This book is written by baby-experts who have rocked the world of baby-naming with Beyond Jennifer & Jason – the first book by Linda Rosenkrantz and Pamela Redmond Satran that identifies the image associated with particular names in a more detailed fashion.
These duo have once again showcased their brilliance in giving guidance to the millions of parents, and soon-to-be parents around the world.  And now these baby-name experts pinpoint the very latest trends in this all-new, up-to-the-minute edition of possibly one of the best baby-naming book in the market. 
Fabulously fresh and irresistible, Beyond Ava and Aiden is packed with fascinating new tips in the baby-naming space. 
3. The Baby Name Wizard, 2019 Revised 4th Edition: A Magical Method for Finding the Perfect Name for Your Baby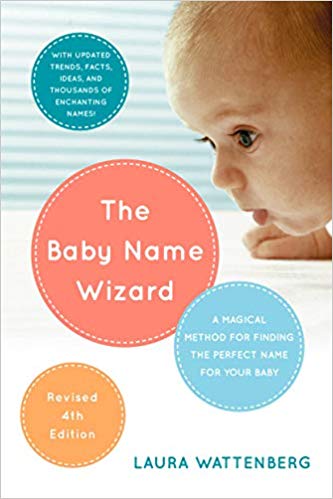 This fully revised and updated version of the classic baby name guide, features updated  trends, facts, ideas, and thousands of enchanting names!
In this book, there are no shortage of names to choose from and the right baby name will speak to your heart, give your child a great start in life – and maybe even satisfy your insatiable relatives. 
The unique feature of this book is that it uses groundbreaking research and computer-generated models to create a visual image for each name, examine its usage and popularity over the last century, and suggest other name ideas that will probably be here for the next 50 or 100 years. 
This is a perfect, up-to-date guide to the modern world of names, and The Baby Name Wizard will delight you from the first name you look up and keep you enchanted through your journey to finding just the right name for your baby.
4. The 2019 Baby Names Almanac 9th Edition by Emily Larson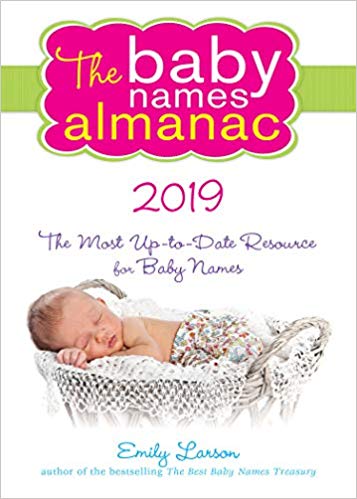 Want to know what are the hottest names in your state?  This book will not only give you that, it also gives you the newest trends and upcoming names that might catch your fancy. 
This book gives an instant snapshot of how the world today has evolved and is shaping the name you may choose for your child tomorrow.  The 2019 Baby Names Almanac is jam-packed with information and trends, plus thousands of names to browse from
It boasts of up-to-date data and forecasts for what's going on today.   If you want to find out what Celebrity names are expected to soar, or which Gender-neutral names are on the rise, and much more.  This comprehensive resource is perfect for the modern parents looking to name their newest baby girl or boy.
5. 100,000 + BABY NAMES:The Most Complete Baby Name Book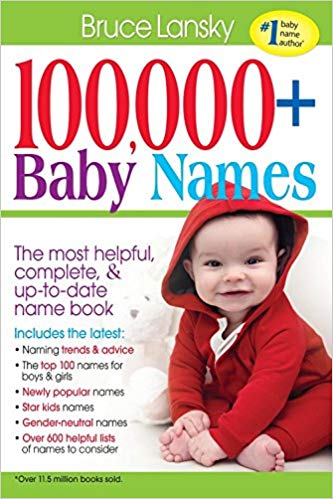 Bruce Lansky may have possibly come up with the most comprehensive baby-name to date.  The amount of research he made in order to come up with this book is definitely worth its price. 
From the most rapidly rising and falling top 1,000 names to the most popular gender-neutral names, this is one book that is keeping up with the times and aims to be inclusive without being condescending.
Major linguistic and ethnic groups of origin are well represented, complete with meanings and variations. From Greek to Latin, to Asian such as Thai, Vietnamese and even Aboriginal and so much more, this book promises to deliver. 
It would be fairly reasonable to finally find the most suitable name for your child with the more than 100,000 baby names in this book.
6. A Is for Atticus: Baby Names from Great Books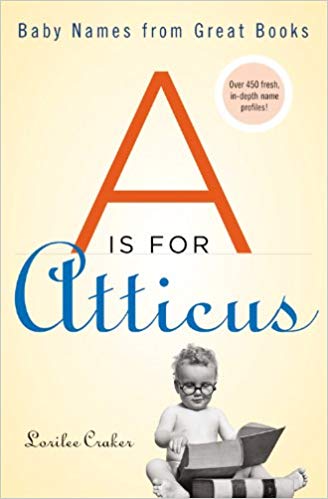 Where better to draw inspiration for names that you can relate to, than the books you cherish and the characters you love?  A Is for Atticus dives and hunts for the best names and brings them all into one comprehensive volume.
Each of the carefully selected names in this book is fully profiled in a fun, savvy, info-packed listing that includes a name's meaning, uniqueness, modern appeal and cultural significance.
7. Don't Name Your Baby: What's Wrong with Every Name in the Book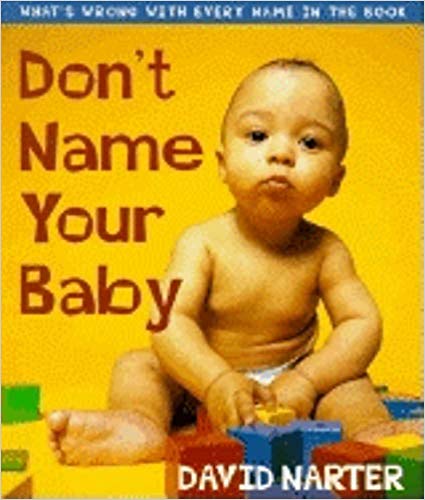 As much as it's important to know what are the names we may consider in giving to our precious child, it's doubly important to know why certain names should never appear on the birth certificate we are obliged to sign. 
There are names that can open doors of opportunities and possibilities.  And there are names that close it shut.  Children can be very cruel to their peers and a lousy name you give to your child exposes them to ridicule and even bullying. 
This book doesn't hold punches when it comes to names.  Here are few examples: 
Jesse:  A name inextricably linked to America's most famous killer.  Good choice.
Tammy: There are some things from which a name can never recover, and five pounds of eye-liner is one of them.
 To add insult to injury, err – as an added benefit, Don't Name Your Baby provides list of names for not-so-good-looking babies, dog names, fad names, names that will be very hard to represent and live up to, names that risk your child's well-being as they will surely be bullied, and so much more. 
This is a funny, yet sensible book that is sure to deliver a good laugh. 
8. Baby Names: Unique Baby Names with Spiritual Meaning For Boys and Girls (Volume 1)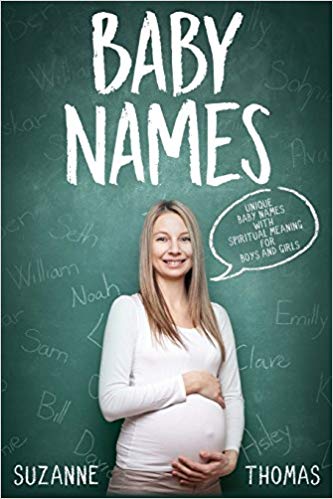 For parents who want to name their baby guided by a deeper sense of meaning, or who look beyond the superficial, this is worth the read. 
Suzanne Thomas makes a strong case for spiritual baby names and that parents need not be of religious background to understand and appreciate the process. 
The names in this book whether they are not the usual or ordinary,  traditional and enduring, or cool and hip, they all have one thing in common.  They have been infused with spiritual meanings that inspire.  And what is more fitting to give to your precious little ones than bestow on them the gift of a name that will be with them for the rest of their lives.
9. The African-American Baby Name Book: A Treasury of over 10,000 Unique, Traditional, and Creative Names for the New Millennium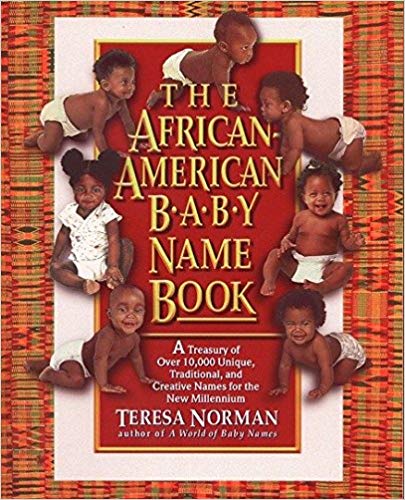 Our names are often hallmarks of our heritage and lineage.  Both are reflections and tied to the ethnic and religious roots of our dreams for our children's future. 
The African-American Baby Name Book, is a compilation of more than 10,000 names ranging from African names to contemporary names, to traditional Muslim names and more. 
An advice on alternative spellings, information on origins and meanings, and tips on choosing a name that will help parents reflect the treasure of the child who owns it.  
10. The OTHER Baby Name Book  by Sheri Knight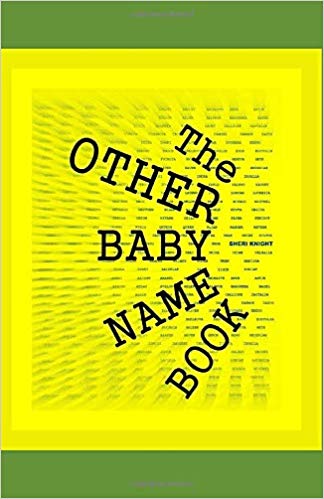 Don't let the simple title fool you.  This book has one of the most comprehensive list of intriguing names out there!
If you're into mythology, or fascinated by astronomy, astrology, science-fiction, and so much more, chances are you will appreciate this particular book.
You won't find worn-over, recently over-popularized or boring names here.  If you're looking for ordinary, this is not the book for you.  Here in The Other Baby Name Book by Sheri Knight, is where a clean list of names with their origins, definitions, notable bearers, and interesting trivia can be found. 
What's unique about this book is that it celebrates names that have been lost to time, translation, culture or religious differences and association bias.
One of the more fully inclusive book in our list, and delightfully informative. This is expected not only to amuse or inform you, it will leave you fully inspired by names that are both deep and meaningful.
Things To Consider In Choosing Baby-Names
Now that you've seen the list of Best Baby Name books which you can use as your guide in naming your precious soon-to-be-born child, we have compiled a list of things to consider when deciding on a name.
These are experts suggestions that will definitely make it easy for you and avoid falling into the trap of baby-name guilt or shame. 
A PASSING TREND IS NOT GONNA LAST
Some parents get caught up with the latest trends in show business, sports, or in politics. 
Is naming your child Tiger really going to open up opportunities for him in the future?   Your baby's name is going to be with him for the rest of his life so it should stand the test of time.  If it's no longer trending 5 years from now, will it still sound cool or will your child be subject to ridicule?
Will your child be asked countless times how his name is spelled, or what does it really mean?  If your child has to explain his name every single day you are better off passing on the name. 
CLASSIC NAMES DON'T NEED TO BE BORING
Some parents become too lazy to even think beyond the popular names around.  If in 9 months of waiting for your child to be born and all you can think of a name is Paul if it's a boy, and Mary if it's a girl, then you are doing your child a great disservice.
Not that there's wrong with either of the names, but there's a lot of classic names that can take their place.  Think Vivian or Barbara for girls, and Louie,  Edwin, and Robert for boys.  
YOUR FAMILY TREE CAN BE A GREAT PLACE TO START
If you're into history and love the connection between generations, then perhaps looking within your own family tree can give you some inspiration. 
There are online websites that can construct your family tree and from there you might catch great names that was carried by a great grandfather or grandmother on either side of your family. 
This is a great way of honoring your heritage and continuing the legacy started by your ancestors that have  a strong significance for your family.
LOOK IN YOUR CULTURE
One of the most beautiful ways to honor your heritage and culture is to embrace it with a name that will keep it alive. If you have a German or Italian heritage why not consider using it?  A Spanish or French lineage is equally worthy of a name that will honor your family. 
SEARCH FOR THE MEANING
Choosing a name without searching for its meaning is inviting trouble.  You must do your own research on what are the meaning of the names which you consider giving to your child. 
The books on this list should do the job of guiding you to understanding the origin and meaning of the name that caught your fancy and intend to give your child.
AVOID CONTROVERSIAL NAMES ALTOGETHER
Naming your child Hitler is going to get your child and you in big trouble. A couple in London who named their son Hitler was sentenced to more than 10 years in prison for being a member of a Neo-Terrorist group. 
Although they were not jailed for naming their son Hitler, it's obvious that the judge considered it when contemplating how  many years they will be sent to jail.  It's hard to feel compassion and mercy to people who think that history's most hated leader deserve recognition and honor. 
On the other hand, giving your child the same name as the Son of God, Jesus, is more acceptable but in no way ideal.  Religious parents have the best intention for sure when they decided to give their son the name "above all name".  However, we know they're setting him up for failure and disappointment because he can never live up to that name. 
Your baby may be innocent the day it was born but babies grow and become adult.  And that's where his trouble will pile up.  Imagine being called out for all his transgressions because of the name YOU gave him.
THE MIDDLE NAME IS JUST AS IMPORTANT
Choosing your child's middle name should complement his first and last name.  A lot of parents also use it as a way to incoporate a name in their family that made it a tradition to use it for all their children.
I have a friend named Bernie and all 5 of his siblings who were all boys were named  Bernie as well.  The parents seemed to have anticipated the confusion it could bring that's why they were all given middle name to distinguish one from the other. 
So don't think that middle name is not an important part of your child's name.  It can complement and sometimes even upstage his first name.
INITIALS CAN SOMETIMES SPELL TROUBLE
If you think this is much ado about nothing, think again. In todays world where most words are shortened or abbreviated, it's wise to consider that your child may be called by his initials and we know that there are 3-letter words that could make a person blush. 
I know someone whose initials  are F.A.G. (his name is Frederick Anthony) and he is not happy with it to say the least.  He is contemplating of changing his name legally to correct an injustice perpetrated to him by his own parents. 
HOW DOES IT SOUND?
When you say your child's name out loud is there a rhythm to it or does it sound off like something's amiss?   If it doesn't sound good, perhaps it would be a good idea to find a name that will complement one another to make a rhythmic sound.
RELAX AND DON'T OVERTHINK TOO MUCH
We all know the pressure that can be put on us in naming a child that will carry it for the rest of his life.  And it could even determine his success later on in his adult life.  With this in mind, it's easy to get stressed and obsess in finding the perfect name for our child.
That's why there are books written to address this so just relax and get yourself a copy of any of these great books, so that you can relax and enjoy while learning all the great names and choosing one that will fit your child. 
Final Words
"What's in a name?  That which we call a rose by any other name would smell as sweet." 
Alas, this quote from Romeo & Juliet by the greatest English Writer the world has ever known is not applicable when it comes to baby-name.
There are studies that one's name can open up opportunities while another's name is highly probable to fail.  Perhaps our name can boost or weaken our self-image that is why a lot of consideration is done before it's made. 
All the books featured here are the best baby name books. Because they are written intelligently, and in a meticulous manner.  You can see the different styles of each author as well.  But one thing is for sure, each of them painstakingly did extensive research and gave us an indispensable tool which we can enjoy and benefit from for years to come.
Finally, a word of caution.  Don't name your baby without reading from any of these books. Grab your copy of any of the 10 best baby name books on this list and start on your own journey in discovering a name that you can gift your precious child.