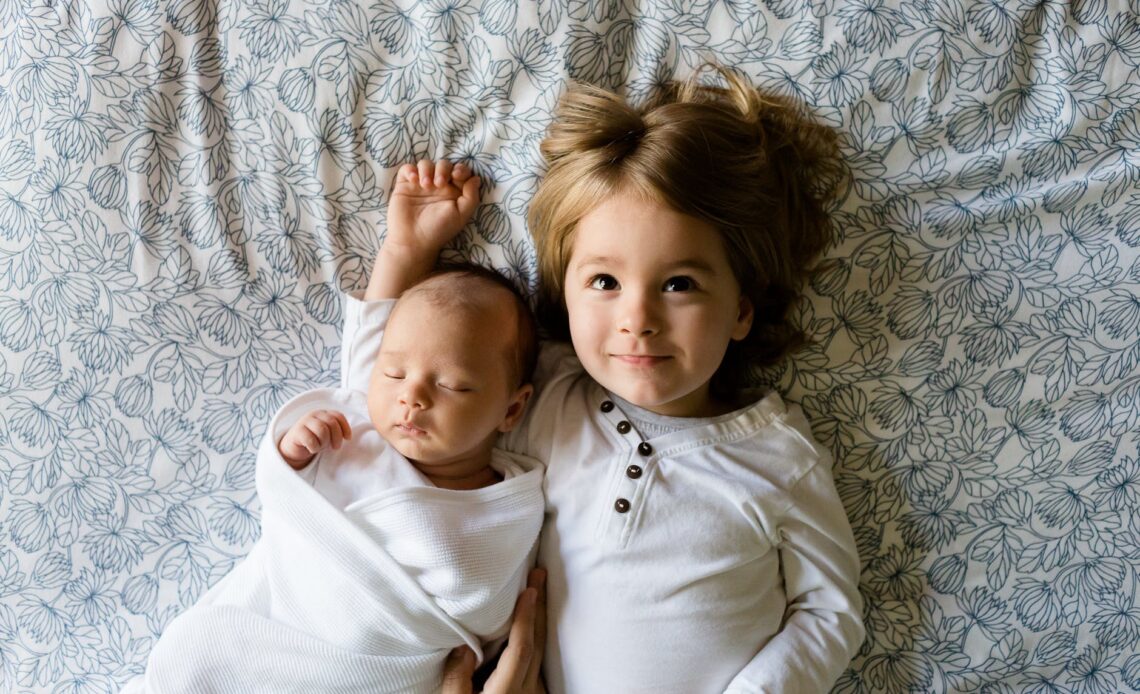 Keeping the baby away can be hard for parents and it can even lead to postpartum depression. Thanks to the innovative technologies, the baby monitor is an excellent gadget that lets you stay close to the baby and keep a keen eye on him/her.
What's better than one? Two, right? A baby monitor with two cameras is like a double treat that enables you to monitor the baby with two cameras. They come with tons of amazing features to make the parents' lives easier and worry-free.
There are wide arrays of baby monitors out there. Many of them come with cool features and technologies that are too good to be true. We have carefully made our picks and selected the best baby monitor with two cameras out there. All of them are loaded with advanced features that will help you keep you an eye on the baby at all times.
Our Best Baby Monitor W/ Two Cameras
Let's have a quick in-depth review of these baby monitors.
Infant Optics DXR-8 Video Baby Monitor
The Infant Optics DXR-8 Video Baby Monitor may not have all the bells and whistles like some of the other monitors, but it's one of the best all-around baby monitors with 2 cameras out there. It has been awarded 2018 the best popular mechanics baby monitor.

Key Features
Optical zoom
Interchangeable lens system
Infrared night vision
2-way talking system
Why We Love It?
The first thing we're going to talk about is the monitor. At the top of the monitor, there is an on/off sleep button that is used to turn the monitor on/off. When you power on the monitor it connects automatically and quickly with the camera every time. If you press the button on top of the monitor once then it'll put the screen to sleep to save battery.
All the incredible features are in the main menu. When you press the main menu button, the menu pops up and the first thing you'll see on the menu is volume. You can adjust the volume up and down using the directional buttons. Like volume, you can also adjust the brightness as well.
The screen measures about 3 and ½ inches that are bright enough to see your baby. The sound quality is pretty decent and you can clearly understand the movement or talking. The microphone does an excellent job of picking up small sounds in the room.
It has a timer feature that will put the screen to sleep after 3 or 5 minutes. The optical zoom feature allows you to zoom in on your baby. Though it only comes with one camera, you can connect up to four cameras.
6 hrs constant audio and video
Easy to use and setup
Robust and mature hardware
Additional optical zoom lens
VTech VM321-2 Video Baby monitor
The Vtech VM321-2 baby monitor is best known for its great audio and video quality. As far as the quality is concerned this is the best baby monitor with 2 cameras by V-tech. The product has great value and features.

Key Features
Automatic IR night vision
DECT 6.0 technology
Split-screen viewing
Temperature sensor
Why we love it?
This model comes with one monitor and two baby cameras. You can see your baby at night without disturbing them because of its automatic IR night vision thanks to its 8 infrared LEDs in the lens sense. The high resolution 2.8 inch LCD screen helps you to see every detail of your baby's clearly.
A wall-mount bracket is included for you to easily attach it to a wall. The adjustable lens can get the right angle for monitoring. It can pick up 22 frames per second which are the reason the video quality is so good.
The camera has each a speaker and a microphone. There are 5 different lullabies or your voice that can be played in the speaker. The microphone helps you to pick up on baby's cries and transmits that back to your monitor. You can adjust the volume of this baby monitor using these buttons.
The most amazing feature is the split-screen mode. This feature allows you to view up to 4 cameras in the system or you can view each camera separately.  On the display of the monitor, you'll be also able to see the battery level, temperature, and signal strength. Another amazing feature is the vibrate mode. If noise is detected then the monitor will vibrate.
Overall, this baby monitor is enough to suit most people's needs.
Options for adding more cameras
Picture quality is great
2-way talk-back intercom
The antenna has a high range up to 1,000 feet
No audio in split-screen mode
Summer Infant Dual View Digital color Baby Video Monitor
The Summer Infant dual view digital color monitor set is the perfect pair to keep your whole family safe and sound. It comes with 2 cameras that you put in a baby's room and a monitor to get to watch your baby sleeping.

Key Features
Large 3.5-inch color video screen
Two-way talkback
Two wide lens video cameras
Automatic night vision
Why we love it?
The large portable high-resolution handheld video monitor operates on 2.4 GHz wireless digital technology. You'll definitely like the cord as it's quite long and the cords are interchangeable for both cameras and monitors.
On the top of the monitor, you got the power button which is also a menu button. The middle button is for the screen on and off. Then you have a button that you can push to talk to the baby. You can set it up to either rotate between cameras or to a certain camera. Also, you can add or remove cameras and can add up to four cameras on this device.
If you've four cameras then it will split the screen into four different little cubes. The coolest feature is the split-screen mode. There is one single button on the side that displays both cameras at one time.
You can pan from side to side; you can go up and down with the directional buttons on the monitor. Also, you can zoom, just simply press the middle button to zoom in twice which is really awesome. The picture quality is also a lot better during the daytime.
Another external feature is the kickstand on the back is very tight to put the monitor in any position. Overall, you'll love how well you can see everything on this.
Battery life up to 6 hours
Can add 2 additional cameras
Range up to 600 feet
Able to zoom twice
Battery dies without any prior warning
Summer Wide View 2.0 Video Baby Monitor
The Summer Wide View is another video monitor model by the Summer Infant brand. If you want simple visual and outstanding audio capabilities then this is the best baby monitor with 2 cameras for you.

Key Features
5-inch display screen
Adjustable volume and brightness control
Remote digital zoom
2 color night light
Why we love it?
There are so many features of this baby monitor that makes it a must-have such as a 5-inch color video monitor with high-resolution LCD, black and white automatic night vision, and many more! It features a 100 percent technology for privacy and security.
It comes with two cameras and the cameras include remote on/off soft clone night light. Moreover, it has two color night-light with calming red to help baby sleep and soft blue for a nightlight.
The wide lens technology lets mom and dad see more of the rooms of their little ones while remote zoom lets you keep an eye on your children no matter where you're in the house. The talk-back feature lets you talk to your babies to soothe and comfort them even when you're in another room.
Another feature of the Wide View 2.0 dual monitor is the adjustable volume and brightness controls. Moreover, it has sound-activated LED lights, rechargeable batteries and even built-in kickstands for tabletop convenience.
The monitor has an expendable system to add up to 4 cameras. So, you can view multiple rooms and children easily. Also, it can able to see each room individually or with the 8-second auto-rotation between rooms.
Overall, if you've never used a baby monitor before then you'll definitely find this baby monitor very useful.
Large screen
Able to add up to 4 cameras
Kickstand
Very easy to use
Video quality isn't that good
DR.J Professional Video Baby Monitor
This video baby monitor is a must-have for you if you're soon to be parents or soon to have a second baby. It's one of the highest-rated baby monitors and currently the 16th best-selling baby monitor on Amazon.

Key features
4.3-inch LCD display
2-way communication
1200 mAh battery
Power saving and VOX mode
Why we love it?
It comes with two cameras for monitoring babies in two different rooms or even twins in the same room. The monitor and 2 cameras were successfully paired with each other before it comes to you.
The LCD monitor is powered by a built-in 1200 mAh battery that is rechargeable and can last up to 8 hours in video display mode as well. It has a power-saving mode for the battery to last much longer. Simply press the power to turn off and then again press any button to wake up the screen.
The 2-way communication feature allows you to talk to your baby whenever you want. You can calm, comfort and even sing lullabies to your baby with your voice using this feature. Also, you can turn off the screen and still hear baby calm.
The next feature is the built-in 8 IR LED lights for night vision with Infrared light. This feature helps you to see your baby's face and every detail very clearly even in the darkness. One of the best features is the sound activation. This feature only transmits signals from the camera to the monitor when the baby is in need or crying.
Moreover, the product comes backed up by a 12-month return policy.
High capacity battery
Clear night vision
Temperature monitor and lullabies
Feeding clock to remind parents
LBtech Video Baby Monitor
This video baby monitor is one of the best dual camera baby monitors by LBtech. It's a good choice for any parents because of its decent size and is also lightweight. It's also quite cheaper and is very easy to use.

Key Features
4.3 inch large LCD display
Two-way talk
Room temperature monitoring
2x digital zoom
Why we love it?
The baby monitor comes with many impressive multifunctional features. It's very easy to set up with no complicated WIFI connection or any other APP download required. The two-way audio system helps you to quickly, easily listening and comforting your baby from another room in the house for real-time.
It has a multi-camera expandability system that supports up to 4 cameras to give you more convenience and saving your money as well. You can zoom in/out with their 2x digital zoom feature that allows you to get a closer look at your baby without the need to change the lens.
When the baby's room temperature is too hot or cold you'll be alerted because of its room temperature monitoring function. This function helps you to care for your baby's health. Also, the camera picks up images of your baby in dark or low light conditions thanks to its infrared night vision feature.
It doesn't matter where you're in the house you'll be able to keep baby in view due to portability and long-range transmission up to 1000 feet. The long-lasting rechargeable battery can last up to 8 hours. The most amazing feature is the VOX mode to save power. The screen automatically turns on when sound detected, so you won't have to gaze at the screen all the time.
Moreover, the product comes backed up by a 90-days back warranty to enjoy professional after-sale service.
360-degree camera rotation
Long-lasting battery
Quite cheap
Easy to use
Babysense Video Baby Monitor
If you want to have a clear camera picture for seeing what your baby is up to then this is one of the best video baby monitors with 2 cameras. This premium baby monitor was designed to give you peace of mind as you do everyday activities while watching your little ones.

Key Features
3.5 inch HD color monitor
Two-way talkback communication
Infrared night vision
2x digital zoom
Why we love it?
This baby monitor allows you to watch your baby from anywhere in your house thanks to the monitor's ultra-long-range reception of up to 960 feet in open space. The vivid 3.5-inch high definition LCD color video screen and interchangeable wide-angle lens give you a clear and wider viewing area.
The digital zoom with image navigation function ensures that you never miss a thing. Also, the cutting edge out of infrared night vision and night light features allows you to see what's going on with your baby day and night.
There is even room temperature monitoring to let you know if the room gets too hot or too cold. The two-way talkback communication technology lets you calm, comfort and sings to your baby. You can also use built-in lullabies to soothe your little one to sleep.
When it comes to baby monitor you can't afford to settle for all those cheaply made monitors anymore or those that rely on the internet connection. The Baby Sense monitor is 100 percent safe from hacking because they don't use wifi or the internet. They use enhance encrypted technology to ensure you're the only one watching and listening to your baby.
Moreover, you can pair up to 4 cameras to monitor several kids in different rooms.
Unparalleled stability and wide range
Long-lasting battery life
Temperature alerts
Long-range up to 960 feet
Sound quality is very poor
Motorola Comfort 75-2 Pack Video Baby Monitor
The Motorola Comfort 75 comes equipped with a high sensitivity microphone to allow you to easily communicate with your baby. It uses infrared technology to ensure that you get a crystal clear display even after lights out.

Key Features
5 inch LCD color screen display
Cameras with remote pan scan
Infrared night vision
Two-way intercom speakers
Why we love it?
It comes with a 5-inch display, two cameras, and two power supplies along with a user's manual to figure out everything. One power supply cord is used to charge the monitor and the other one is used for the cameras. 
When you first use the monitor it does take about 16 hours to get a full charge which is kinda lot and you get 4 hours of use out of it. So, if you're planning to use it overnight while your child is sleeping then the best thing to do is leave it plugged and it does work while it's still plugged in. 
At the back of the camera, it has a temperature sensor antenna and a pairing button.  So, you can connect up to four cameras to one parent device. If you do get additional cameras then there's a feature on your parent device to add cameras.
It has a timer feature, so if you want to shut it off after a certain amount of time then you have 2, 4 and 6 hours timer. Also, there is a time out screen that allows the screen turns itself off while the device is going on. You can still hear the sound without the light.
Overall, this is a great budget-friendly monitor.
Accurate room temperature monitoring
Great features
Easy to use
Large screen to see clearly
Moonybaby Video Baby Monitor
If you have more than one baby or twins then this monitor can do the job for you. The Moonybaby is currently one of the best selling monitors on Amazon. It enables you to see bigger images of your baby.

Key Features
Two-way talk
5-inch screen
Room temperature sensor
Night vision
Why we love it?
There are tons of features that make this baby monitor very appealing. Starting with the split-screen mode, it lets you view two rooms or both children side by side, so you won't miss any precious moments. However, you'll be able to hear sound from only one chosen camera.
The parent unit can control the camera to pan, tilt, and zoom remotely to keep an eye on your little one no matter where he/she is in the room. It features 100 percent digital wireless secured technology to ensure a private and secure connection between the monitor and the camera.
It comes with a 2 wide angles lens that expands the view to see the entire room. You can also use digital Zoom In to have a closer look at your baby. One great feature is the room temperature display. It constantly monitors the temperature in your baby's room and alerts you when it's too cold or too hot to confirm your baby stays in the comfort environment at all times.
Another cool feature is the power saving mode or VOX mode. This feature helps you to save the battery energy of the monitor. The screen automatically turns off when your baby sleeps and again turns on if the camera detects the baby's crying sound.
Overall, this baby monitor is best for growing toddlers or babies.
Power saving mode to save battery energy
5 built-in lullabies for your baby to sleep
Long-range up to 1000 ft in outdoors
Digital zoom
Not very sturdy and easily breaks
DBPower Video Baby Monitor
The last model on our review of the best baby monitor with 2 cameras is DBPower. Though it comes with only one camera but can support three additional cameras and additional cameras are sold separately. It's a great value with a lot of features.

Key Features
Two-way communication
Automatic night vision
Advanced alert system
Sound activated LED lights
Why we love it?
This baby monitor comes in a beautiful package that includes a camera, a video monitor, two power adapters for camera and monitor, a user's manual, and a mounting kit. It's very easy to set up, all you have to do is mount the base to the wall and plugged it in.
It supports up to 4 cameras to let you monitor 4 rooms at the same time. The color LCD screen is 4.3 inches with a resolution of 640 x 480 pixels. The sound activated LED lights let you know how much noise your baby is making.
It has a video recording option, so you can catch the moments of your little one and share them with the manual video recording. Also, the precise sound-triggered DVR function ensures never miss a moment with your little one thanks to the automatic video recording system.
Another cool feature is the two-way talk which is a built-in advanced microphone and speaker for clear audio communication. You won't only see what's happening in the baby's room, but also able to talk with your little one and transmitting distance is up to 10,000 ft.
Lastly, there is an advanced alert system that alerts you for low battery, out of range, temperature, and a baby crying.  Overall, this is the best baby monitor that is reasonably priced, has an impeccable satisfaction rate, and has a multitude of features.
Reliable and easy to use
Flexibility to add multiple cameras
Long camera range
Portable
Doesn't have the ability to disable video on the display
If you need to buy a baby monitor but you're not sure where to start from then we're here to help you out choosing the perfect baby monitor for you. We're here to break down the features that you need to be paying attention to.
Long Range
One of our top factors when purchasing a quality baby monitor is that the baby monitor should be having a longer range. This is because if your house is big or one with thick walls can cause you problems with the signal.
Anything over 500 ft is decent and over 700 ft is excellent. Try to avoid below 500 ft because you're messing with a little bit cheaper tech stuff. You should look for a baby monitor that has a range of up to 1,000 ft.
Automatic Night Vision
The automatic night vision is another great feature and it comes equipped nowadays with most of the baby monitor. When it's too dark in the room the night vision will automatically enable. You don't need to switch it on.
A lot of the older baby monitors don't have this feature and that is the last thing you want to have to deal with is walking into your little one's room just to manually turn on a night vision mode in the middle of the night.
Multiple receivers
If you want to have one fixed in a room and carry the other one with you when you move around then you'll find this feature quite beneficial. Multiple receivers also allow somebody else to share the baby monitoring duties for you.
Analog vs Digital
Digital over analog monitors are a must as you'll receive better sound quality with digital. Also, digital baby monitors are more expensive than analog. On the other hand, analog is basically a radio wave that anybody can listen in on. Analog baby monitors are a lot more prone to picking up outside signals and frequencies rather than your own.
Moreover, if somebody else is using an analog monitor then there is a high chance that they're likely to pick up your signals as well.
Sound activation
This feature is also standard on most baby monitors. If the screen dims or goes off then as soon as there's any type of sound the monitor will kick back on to alert you. Some of the baby monitors have to sound-sensitive blinking lights to alert you.
So, make you before you purchase that the baby monitor not only has sound indicator lights to let you know something's wrong with your baby but also turns the viewing screen on wherever there are any sounds.
DECT protection
The DECT technology in baby monitors is for increased security. It encodes and encrypts data from the transmitter to the receiver. It also helps you by cutting out interference from other appliances like mobile phones, tablets, and even microwaves.
It's not mandatory to have this technology when you purchase a baby monitor, but when it comes to your baby then it's always better to have more security.
Expand-ability
Expand-ability is one of the most important features for your baby monitor to have if you want to add cameras. You definitely want to be adding more cameras to expand within your system that you have rather than to go out and buy a whole new system.
Many monitor system comes with the ability to add up to 3 or 4 cameras. So, try to look for them to have great coverage for more than one child or additional areas in your home.
Privacy
Though privacy is pretty huge for new parents who don't want to wake up to see someone else has hacked the device to talk to their children, but I have to say it's pretty rare. So, make sure it has a great security system built-in and comes from a reliable company as new companies use outdated security protocols that are easier to break.
One tip regarding the privacy is changing your router's wifi password every six to eight months. It'll keep you and your family safer
Clarity
It's essential to have a decent video quality, especially at night. Clarity helps you to quickly see the baby and knowing that your baby is breathing will give you a huge sense of relief. So, try to find a monitor that got good clarity like 720p will do the job.
Battery Life
Having a good battery life is very essential as a longer battery life is much more convenient. You don't want to keep plugged in all the time although it's an option too. There are few tips to save battery life like trying to lower the screen brightness when possible. You can also change batteries every few months. Some monitors come with power saving mode to save battery charge.
Warranty/Return policy
It's good to have a baby monitor that comes backed up by a warranty as nothing is going to work perfectly every single time. Before buying a baby monitor you should understand the manufacturer's return policy if there is any. Always try to make sure the manufacturer has a solid return policy in case you do need it to use it.
Room Temperature Display
It's impossible to feel the temperature of your baby's room when you're physically in another room. All the baby monitors that we have listed on our review of the best baby monitor with 2 cameras have the temperature sensor feature.
This feature not only shows you the temperature but also alerts you when the room is too hot or too cold. So, make sure the baby monitor has this feature for your baby to feel more comfortable.
Tilt, Pan, and Zoom
If you feel annoyed by the disappearance of your baby from the camera sight and you have to fix the direction the camera every time then tilt, pan and zoom feature will definitely solve your problem. Almost all the best baby monitor comes with this feature. You'll be able to take a close check on them while they're sleeping. 
Split-Screen Mode
A baby monitor that comes with a dual-camera should have the split-screen feature. You'll be able to monitor two rooms or several children at the same time. Sometimes we have seen with most of the baby monitor that when you switch on to the split-screen mode the sound automatically disappears or disables.
So, make sure your baby monitor with multiple cameras has this feature without having this problem.
Two Way Talk
Having two-way communication technology is a blessing for every parent. You can calm, comfort and sing to your baby using this most advanced technology. Also, this feature lets you turn off the monitor and still hear the baby. So, try to look for baby monitors that pick up sounds like your baby sucking their thumb on even the lowest settings.
Large Screen
Lastly, a baby monitor should have a large display to clearly see every detail of the baby. Anything over 3 inches is good enough to go with. However, if the baby monitor has the split-screen feature then you should look for a bigger monitor.
Why Do You Need Multiple Cameras?
You might wonder when one camera is enough for you to monitor your baby then there's no need to bother with a more expensive video baby monitor with 2 cameras. However, that extra camera or two cameras can be handier than you think. Here are some reasons that will change your mind.
Twins or Multiple Babies
If you have several children sharing a room like twins or triplets then a baby monitor with multiple cameras might be helpful. This will help you to point one camera in the direction of each child.
Different Rooms
Your children might stay in different rooms or don't like sharing rooms. In that case, you will need a baby monitor with multiple cameras. All the baby monitors on our list support split-screen mode to cycle through each camera individually.
Lastly, it doesn't have to be necessarily babies, so you can monitor whatever you want. The options are endless but a good way to keep an eye on your home without your presence.
Q.) Is a wireless baby monitor safe?
Ans. Yes! They are safe. There are many horrible stories of wireless baby monitors being hacked. However, you can prevent this by changing your router's password every 6 to 8 months.
Q.) Where should I place my baby monitor?
Ans. Your baby monitor should be six feet far from your baby due to radio emissions. If you use power cable then it must not be anywhere within reach of your child.
Q.) Which baby monitor has the longest range?
Ans. VTech VM321 with 1000 feet, Babysense with 900 feet, and Infant Optics DXR-8 with 800 feet are some of the long-range monitors.
Q.)  What are the top brands for baby monitors?
Ans. When it comes to baby monitors then Summer Infant, Motorola, and Infant Optics are only a few top brands.
Final Words
It's not an easy task to find the best baby monitors as there are so many features to look for. You'll always want to go for the most respected and reliable systems when it comes to protecting your baby. Just remember to focus on the key features that we have included in our buying guide.
Among all the baby monitors that we have reviewed, based on everything Infant Optics DXR- 8 is the best baby monitor out there right now. However, we have many other baby monitors on our list that offer phenomenal performance.
We believe our buying guide and review of the product will help you to choose the best baby monitor with 2 cameras for you and your family. So, get the best baby monitor out there and look at your little munchkin whenever you want.